Miss Jasmine, Miss XI – Slobbering Employee Fuckface
It pays to work hard at Fem Corp, as we see in this scene. Jasmine's male employee AKA slave kneels at her feet with a mouth dildo secured in his mouth and a heavy metal collar wrapped around his neck. "Aren't you glad you won Employee of the Month?" she asks. As she looks down, she notices that his tie, which has been in his mouth all day, is soaking wet with slobber. "Your wife is going to wonder why you're all wet when you get home," she says to him with a giggle. She spreads her legs to reveal her perfect pussy and tells her employee that she has a hot date tonight and needs a little pleasure beforehand… which means he's to use the mouth dildo on her. She pulls his head towards her until the dildo nicely penetrates her. The up-close angles are so realistic you'll think it's you opening her up. She tells the slave that when she closes her eyes she can imagine it's actually a hot stud fucking her. "I should be wearing some virtual reality goggles right now watching porn" Jasmine says, as she moans with pleasure. She wraps her legs around his head and reminds the slave how lucky he is to be in this position. In and out he goes, as he provides her with extreme pleasure.
She gets up to turn around so he can take her from behind, and marvels at all the spit on the ground. That poor slobbering fool! "I'll make you lick it up later," Jasmine says to him. She removes her blouse and skirt and looks extra extra hot in her fine lingerie. The slave slides the dildo into her pussy from behind. Jasmine tells him he's a human sex toy and that this is the only way he's capable of pleasing her. "I'm going to be completely primed and ready for tonight" she says with a moan, as she glides her pussy over the dildo, "While you get to go home to your wife, all covered in slobber." Jasmine has a nice orgasm and tells him she has a surprise for him. In walks her friend, XI, also clad in lingerie, much to the employee's surprise. He had been hitting on her through a dating site and is now faced with the fact that his employer knows he's been actively trying to cheat on his wife. The girls have a great time laughing at the slave's expense as they remind him of what he will never get. Before they leave on their double date, Jasmine reminds him that he must always do exactly as told, or he can rest assured that his wife will learn everything. XI adds that he can expect to get the bill for their date as well, and she wonders how he'll explain that to his wife!
File Size :556 MB
Resolution :1920 x 1080 MPEG-4
Duration :00:07:34
Thumbnails :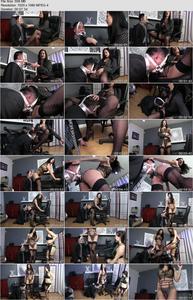 DOWNLOAD :
https://k2s.cc/file/281bf323f5d32/Miss_Jasmine__Miss_XI_-_Slobbering_Employee_Fuckface.mp4