You deserve to be fucked
Have been in chastity a long time? Do you nuts ache? Cant take it anymore? I know what you need! Bend over and assume slave position! You deserve to be fucked!
Goddess Melanie is eying Her iPad, while Her slave patiently awaits for new orders, its pending chores having been completed. The Goddess inspects the slave's chastised dick and finds that it may well be allowed a reward after all this time in chastity. The slave is first allowed to mock-fuck the Goddess's black leather overknee boots with its balls, and then, freed from the restraining device, properly fucked doggy style by a mechanic dildo, while the Mistress thrusts Her strapon in its mouth!
Femdom,Strapon,Slave,Mistress
File Size :302 MB
Resolution :1280 x 720 Windows Media
Duration :00:08:15
Thumbnails :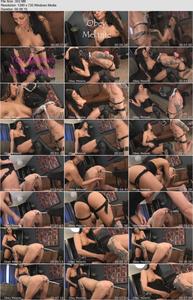 DOWNLOAD :