Miss Jasmine – Humiliated and Ruined
Mistress Jasmine constantly receives applications for stunt cocks- men who claim to be well endowed and stellar sexual performers. Her hopes were dashed when this applicant showed up. Jasmine wastes no time putting him in his place. She straps him into her favorite black dildo, "Big Bob", and while taunting the slave about his inferior dick, she mounts Big Bob and sticks him inside of her. The poor slave is both humiliated and excited at the same time, and of course his dick gets erect. After making sure Big Bob is well lubricated with her pussy juices, Mistress Jasmine orders the slave to suck them off the dildo. Meanwhile, she gets the slave good and hard and forces him to cum. The question is, can he cum again, knowing he will never get to be in Big Bob's position? For sure, this guy is ruined for life!
Involves a man tied down to a bed while she puts a strapon on him to use instead of his dick. She rides it for a bit, then makes him suck on the dildo while she jacks him off, eventually ruining his orgasm and making him cum on the dildo, which is then put back in his mouth while she ruins another orgasm.
File Size :288 MB
Resolution :1280 x 720 MPEG-4
Duration :00:07:32
Thumbnails :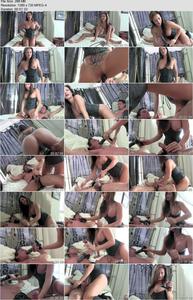 DOWNLOAD :