Footsub Giant Strap-On Parts 1,2
My dear submissive "Footsub" has been bragging to me that he could take bigger toys then anyone else on my website so far.
This shoot is my way of seeing if his ass really can handle all that he bragged about. We enjoy some flirty banter while I tie him up and explore his ass with my hands. I always appreciate his wit and charming smile.
Enjoy some hilarious stories of anal hijinx from a true ass slut while I stuff him to the cheeks with a new strap-on toy we lovingly call "the Dino Dick!"
All of the toys we enjoy in this clip came from our local Mr S Leathers in San Francisco.
File Size :810 MB
Resolution :854 x 480 MPEG-4
Duration :00:33:35
Thumbnails :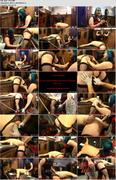 DOWNLOAD :
http://k2s.cc/file/c8898652aea3c/Footsub_Giant_Strap-On_Parts_1_2.part1.rar
http://k2s.cc/file/a4b09ea689346/Footsub_Giant_Strap-On_Parts_1_2.part2.rar