Eleise de Lacy – Anal fuck toy
The slave is made to polish his Mistress' rubber stockings and latex-clad bottom. She then sets about making his arse sore inside and out with some CP and her large strap-on cock. His climax is reached with a little help from Mistress Eleise's sweet champagne.
Mistress Eleise de Lacy, in a tight latex attire, has a slave worshipping Her, licking Her stocking and ass. She then wears Her strapong, and Has the slave suck it while on its knees. Next the slave is spanked with the Mistress's crop, fucked doggy style, and finally allowed the privilege of having the Goddess peeing on its body while beating off.
Femdom,Strapon,Slave,Mistress
File Size :340 MB
Resolution :1280 x 720 MPEG-4
Duration :00:28:14
Thumbnails :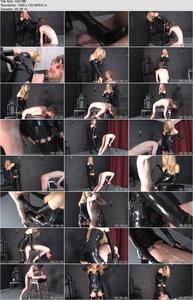 DOWNLOAD :