Lia-Louise – Allerletzte Warnung
Look, this isn't really my cup of tea but I saw this one requested and I'm uploading Lia-Louise vids anyway, so here we go. The official description of this video isn't that extensive, but kinda scared me nonetheless:
"There is the old bastard! Whoever illegally shares my videos on the internet is fucked in the ass!"
She's not talking about me…right? I'm not even joking, that is the literal translation of the German description. Anyways Lia puts on a strap-on and fucks Egon in the ass on the doorsteps of his house. Until she shoots her load… nope nevermind, no finish, just a sore ass. It's a short one, perhaps not as much universal appeal as some of her other ones but I hope u enjoy it nonetheless.
File Size :44.9 MB
Resolution :1280 x 720 MPEG-4
Duration :00:03:10
Thumbnails :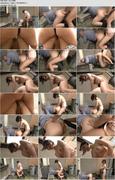 DOWNLOAD :
https://k2s.cc/file/7a089d00ba1ea/Lia-Louise_-_Allerletzte_Warnung.mp4