Fucked by Machines
Mistress Sidonia has, yet again, a slave cuffed down on the top of a cage. He is on his back with his legs raised, as already penetraded with a dildo attached to the Fucking Machine Pro as she begins with putting clamps on his nipple and pulling them up with chains attached to a wheel. After that she ties his cock hard before having him moisten the rim of a vaacum pump with his mouth. She place the pump over his cock and uses it to get him big and hard.
Now the fun begins as she removes the pump and replace it with the Venus 2000 head massager. She works his cock for alittle before removing the head massager and replacing it with the main Venus 2000 tube. She lets the machine milk his cock while she blindfolds him and then secures his head to the cage.
Having him secured properly she applies a pair of vaacum nipple sucktion cups and then goes for the coup de grace as she slowly turns on the fucking machine as well. The pleasure and pain is very audiable as the slave is thoroughly fucked and sucked until he cums inside the sleeve of the Venus 2000. Mistress Sidonia turns off the machines and leaves the slave as he is.
File Size :128 MB
Resolution :1280 x 720 MPEG-4
Duration :00:17:31
Thumbnails :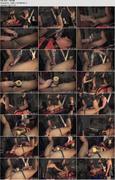 DOWNLOAD :