Mechanical Milking overload
Another lucky sod finding himself cuffed on hands and knees on Mistress Sidonias cage. Scene starts out with the Venus 2000 already applied to the slaves cock and his ass impaled with the dildo from the Fucking Machine Pro. Mistress Sidonia has him moisterising the nipple sucktion cups before applying them to the slave.
Now she puts on her strapon harness and have the slut sucking it for a short while before she gets bored and move behind him instead. She starts the fucking machine and raise and lowers the speed, teasing the slaves ass as we see the Venus 2000 work his cock with a mechanic pace. She leaves him at the mercy of the machines as she gets a rubber gag and press it into his mouth, securing it on the back of his head. The machines works relentlessly as she pulls the nipple cups, eventually pulling them off. The nipples are now hard and big and she applies small clothespins on the before putting the cups back on again.
Increasing the pace of the machines, Mistress Sidonia now just waits for the slave to cum. In the end cock slides out of his ass as he cums into the Venus 2000. Pleased with her work, she leaves the milking machine on slow, working the slaves cock as she leaves.
You won't be disappointed!
File Size :210 MB
Resolution :1280 x 720 MPEG-4
Duration :00:20:40
Thumbnails :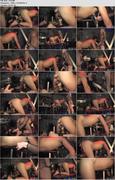 DOWNLOAD :
https://k2s.cc/file/0881ef87247d0/Mechanical_Milking_overload_.mp4